Step through the stargate to AusGate and experience the people and worlds of Stargate SG-1, Atlantis and Universe.
AusGate is a Role Playing Game and is free to join. Simply click on the Join link to set up your Stargate persona and begin travelling the worlds of the hit television shows Stargate SG-1, Stargate Atlantis and Stargate Universe
Travel The Universe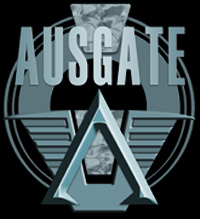 Every episode of every season of every series of the Stargate franchise is covered on AusGate's Stargate Command. Start out on the roof of Jack O'Neill's house in the very first Episode of Stargate SG-1
'Children of the Gods'
, then work your way through all of the locations visited in each episode before moveing to the next.
Collect items along the way and try and discover the secret Stargate address to visit the Pegasus Galaxy and get to Stargate Atlantis, or find an Icarus Stargate and transport yourself to the 'Destiny' in Stargate Universe.
Think you know your Stargate?
Think Again ! AusGate's Stargate Command has trivia questions and exams at every turn. There's over 27,000 questions (and building) in our system. How many will you know?
What's Inside?
Inside AusGate is a community of over 2000 registered users moving around the worlds of Stargate. Keep in touch with an internal Comms system (internal email), battle other users in a 3km2 battlefield (but watch out for those nasty Kull Warriors wandering around), and generally learn more about the Stargate franchise.

There's games to play, exams to take and worlds to discover.
Build your own Stargate
Find peices of the Stargate during your travel to build your very own Stargate. All 3 gates, one from each series, can be collected. Then sell your Stargate for a huge profit. The more you build, the higher the profit.

There's also other collections to build, like your own Kull Warrior suit.
So why not check it out
It's easy to join and fun to play. And it's FREE. AusGate's Stargate Command is now the longest running Stargate website on the internet (16 years and counting). You too can become part of the legacy.